Glen Osprey Farm
Highland Cattle

The first Highland cattle came to Glen Osprey Farm in February of 1972 when we purchased the entire small herd of Mr. D.R. Macdonald (one mature bull, one bull calf and four females for $1,800). We needed new bloodlines for our females so we decided to head to Scotland to look for outcross pedigrees for the North American market.


We attended the Oban, Scotland bull sale in February of 1973 and purchased the Champion bull, Leodhas of Douneside. With that bull we also imported seven females. The following year we purchased a further six Highland females, this time from English breeders. Apart from the bull, Leodhas, Diedre of Dibden, a female from the second importation, added the most valuable contribution to our herd.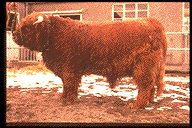 --Leodhas of Douneside
From the onset, we believed that the Highland breed could be greatly improved by selecting for post weaning gain. Our computer records (recorded with FileMaker Pro from Claris) include data on all of our Highland calves since the first three of 1972. Because horned animals were no longer accepted in our local test stations, we built our own test barn in the early 80's. A pelleted ration, similar to that used in the other Ontario test stations, is used to feed the bulls. The basic analysis is 16% protein, 65% TDN.Two important measurements that have only recently been added to our files are accomplished with ultra sound analysis. An independant technician from BIO (Beef Improvement Ontario) is employed to take these measurements. A potential purchaser can be provided with extensive and accurate measurements to assist in the selection of replacement animals.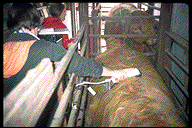 ---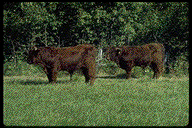 Ultra sound - Nancy at the scale ------------ 2 yearling Highland bulls PJ 16C & PJ 20C

Our emphasis on performance testing of our cattle makes running a show string of animals very difficult. We have been fortunate, especially in recent years, to have sold cattle to breeders who have gone on to show them successfully. GOF Broadstone 13B became North American Champion bull in the capable hands of Barry & Peggy Taylor in 1994. This honour was repeated in 1994 and again in 1995 by GOF Chieftain 17C, handled superbly by Pilar Deines.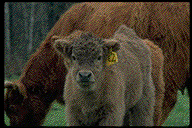 --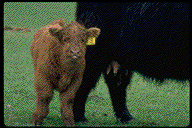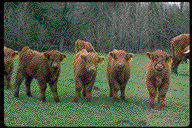 --some of our 1995 Highland calves


If you wish further information regarding Glen Osprey Farm Highland cattle you may reach us by email:

Email. dpease@salerscattle.com

For further information regarding the Highland breed of cattle you may wish to visit the following sites:
Oklahoma State University

Highland Cattle Society of Sweden

Return to Glen Osprey Farm Home Page